The Dining Car re-
opened

 on 1st April 2022 with a new look and new operators! More information to follow soon….
Glenfinnan Station Museum Dining Car
Enquiries and reservations: 01397 722300 or email: diningcar@glenfinnanstationmuseum.co.uk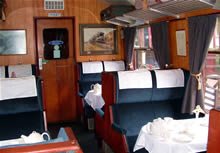 By spending some time relaxing in our Dining Car at Glenfinnan Station Museum you can enjoy the delights of the food and drink we have on offer. This entitles you to a free tour of the Museum exhibition.
The Dining Car is operated by experienced local staff preparing a selection of light refreshments and drinks. Where possible all produce is sourced locally adding that 'wee bit extra' to the flavour and taste well known in the Highlands of Scotland.
The ambience of the coach is one of a return to the time when dining and eating on the move was a relaxing affair. Today our coach does not move but is tastefully restored and furnished to recreate this time in our history. You are also most welcome to sit outside on the verandah and enjoy the stunning scenery down towards Loch Shiel.
During the season we are open from 9 am – 5pm Monday – Saturday and 10am-4pm on Sundays. For the possibility of evening meals, please enquire by email: diningcar@glenfinnanstationmuseum.co.uk or telephone: 07585 914590
We look forward to seeing you at the Dining Car when you visit Glenfinnan!
---
Gallery